The Acupuncture in Surrey Practitioner
Find out more about the practice
Acupuncture in Surrey
Saumeel Patel Lic. Ac MBAcC PGCAP
Former Principal at The International College of Oriental Medicine
Currently in private practice, Banstead Surrey.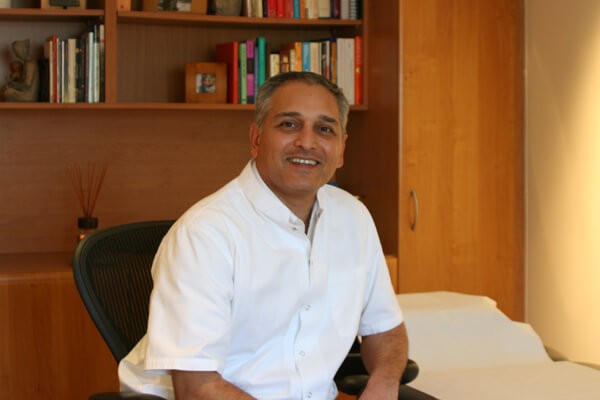 Education
Graduated from the International College of Oriental Medicine (ICOM – East Grinstead)  in 1998 having completed a four year full time course.
Postgraduated Certificate in Academic Practice.
Postgraduate Certificate in Chinese and Western pathology.
Postgraduate Certificate from Shanghai University (Paralysis, Fertility, Scalp Acupuncture, Classical Medical Translation).
Training Courses
ICOM – Eight Extraordinary Meridians.
ICOM – Psychological Illnesses.
LCTA – Facial Rejuvenation.
Zita West (College of Integrated Chinese Medicine) – Pregnancy.
Zita West – Infertility.
Zita West – Female infertility.
Zita West – Male Infertility.
Zita West – Reproductive Health.
Zita West – IVF protocols.
Duveen – Pulse Diagnosis.
Also involved with higher education within the acupuncture profession.
Senior Lecturer at ICOM – Course Co-ordinator for Clinical modules.
Director of Studies – ICOM for 4 years.
Brighton University – BSc (Hons) degree teaching across all four years at ICOM.
Brighton and Sussex Medical School – CAMS module for medical degree for 5 years.
The London College of Traditional Acupuncture (University of Portsmouth).
Middlesex University – Guest Lecture.
London Institute of Five Element Acupuncture – External Examiner.
London Institute of Five Element Acupuncture – Guest Lecture.
British Acupuncture Accreditation Board – Site Visitor.
College of Naturopathic Medicine – External Examiner.
Conferences as Speaker.
Finland – Facial rejuvenation.
UK – Paediatrics
Isreal – Body diagnosis
Postgraduate training course given to –
Surrey Homeopathy Group
Guildford Acupuncture Regional Group
Ashtead Physiotherapists.
Leatherhead Physiotherapists.